---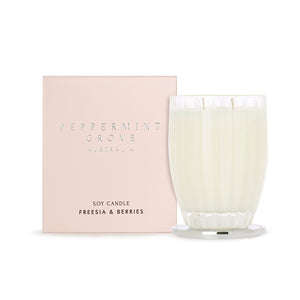 Large Candle - Freesia & Berries
PEPPERMINT GROVE
Regular price $31.00 Sale
Captivating and romantic; from quiet stolen moments on country verandahs to sophisticated red carpet moments under starry skies, this stunning fragrance transcends every occasion and leaves a luscious lasting impression.

Details and Safety Instructions:
350g
Width: approx. 9cm
Height: approx.13cm 
Place your candle on the candle lid or on a stable heat-resistant surface before burning.
Never burn your candle on or near anything that could catch fire.
Keep away from drafts, water & moisture.
Always keep both wicks centered in the middle of the candle. Do not allow them to float to the sides of the glass as this could lead to the glass overheating.
Do not burn your candle for more than 2 hours at a time.
Do not allow your candle to burn to the very base of the glass.
Cease burning when there is 10mm of solid wax left at the base of the candle.
Made in Australia. 


Fragrance Family: Gourmand
Top notes are rose, raspberries, fresh strawberries, spice and clove; middle notes are flowers of freesia, jasmine and cyclamen; base notes are warm and musky with hot amber.
Our fragrant soy candles are handmade in Australia. They are poured in our highly polished custom-designed glass and feature a polished silver lid that also acts as a protective barrier for surfaces.