---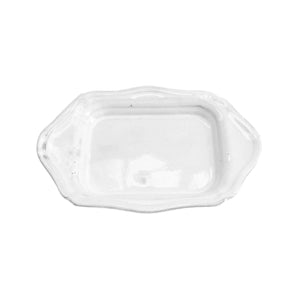 Paris Rectangular Platter with Handles
CARRON PARIS
Regular price $102.00 Sale
CARRON Paris, despite the nobility of its long and particularly rich artistic background, is a quite young company which creates and publishes collections to enrich a certain French Art de Vivre lifestyle. Declined in noble materials, bound mainly to the ancestral art of the ceramic, most of the objects are drawn by Mathilde and then completely hand-made in the CARRON workshop according to a process of her own. Each piece is singular and becomes unique, all distinguish themselves by their graphic elegance and the beauty of the finishes where shadow and light play with shapes, chance and hazard become part of the matter of the object.

The Paris Rectangular Platter with Handles is ideal for butter, cheese or a small dessert. She was handmade in the CARRON workshop in Paris using a Teracotta clay and glazed with a milky white finish. 

Details:
- Lightweight and durable 
- Dishwasher safe 
- Approx. 18cm X 12cm X 2cm 
Please note: Each piece is handmade, meaning there will be slight variations in each piece, which we believe adds to their unique beauty.